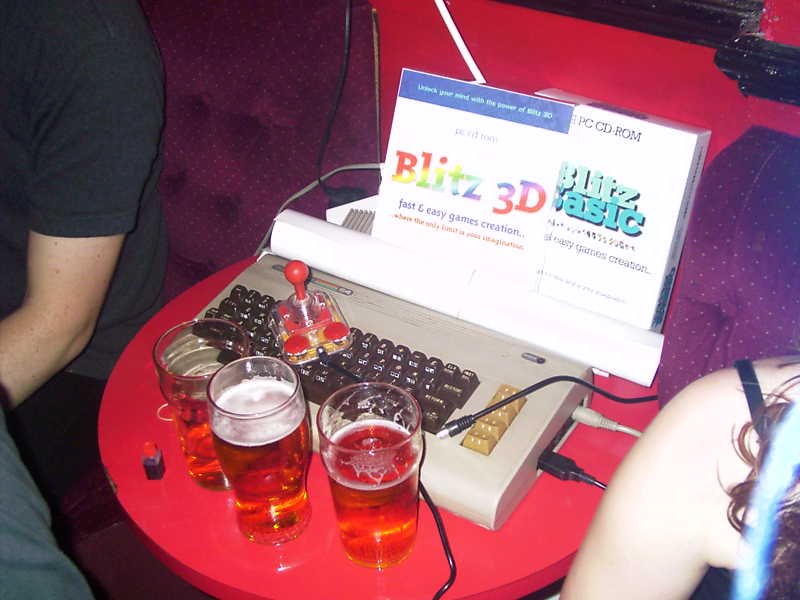 BIT-The event
Aug 03 News
Hope you are all trying to get down to Brighton next weekend (13th Sept) to Back in Time Live 2003. The retro event of the year, no less.
As ever, my girlfriend, Debbie and myself will venture forth from PeeknPoke towers to Brighton and hope to have a jolly day out. We will be arriving the Friday, so if you fancy a few pints the day before the event and a good old chat, then most of the Back in Time crew and myself will be having a few beers at a pub called The Prodigal.
Its going to be another rip roaring event (this time captured on film for release on DVD sometime) and the game playing throughout the day seemed like a heavy starter. There will be lots of C64's playing classic games (see complete list of the high score games below) and even some MAME on PC's. Fancy getting a few beers and playing games all day just like the old days? (but without the beer!) Fancy seeing the concert at night (but with beer!) Then come on, book now.
A photo collection/guides from the old PeeknPoke website forf Back in Time LIVE events has now been produced HERE.
and grab the complete trailers for Back in Time 2003 including new Windows media player versions HERE.
Guest list (as of 05/09/03)
Performers
Rob Hubbard
Press Play on Tape
Ben Daglish
madfiddler (Mark Knight)
Octave Sounds
Chris Abbott (er... probably)
Paul 'Skitz' Hadrill (DJ and co-organiser)
Andreas Wallstrom (Morpheus)
Reyn Ouwehand
Marcel Donné (MAD)
Evolution 64
Composers and Programmers
Rob Hubbard
Martin Galway
Ben Daglish
Dave Whittaker
Fred Gray
Richard Joseph
Richard Leinfellner
Barry Leitch
Mat Cannon
Marcel Donné
Markus Schneider (X-Ample)
Andrew Fisher (Merman)
Paul Kubiszyn (StudioX64)
Stoo Cambridge (Sensible Software)
Jason Kelk (TMR/Cosine)
Nick Pelling (TBC)
Jeff Minter (TBC)
Tim Follin (TBC)
Matt Gray (TBC)
Simon Nicol (TBC)
Jon Dunn (TBC)
(TBC = To Be Confirmed, though they've said they wanted to come).
Remixers
Chris Abbott
Boz
Kenz
Glyn R. Brown
Makke
Larsec
Trauma
Infamous
Dan Gillgrass
Max Levin
PPOT
Mahoney
O2
Webmasters, Artists and Personalities
Gary Liddon (Zzap!64)
Jason "Kenz" Mackenzie (Binary Zone) and Natasha
Alistair "Boz" Bowness (C64Retro)
Mark Rayson (RetroVision, Llamasoft Archive)
Peter Sandén (Yodelking), composers.c64.org, HVSC
Jan Lund Thomson (Kwed of RKO)
Jools (Exotica)
Mat Allen (Mayhem)
Lee Bolton (Peek 'n Poke, trailervideomeister!)
James Burrows (Gamebase64)
Neil Carr (remix64.com)
The Zzap64.co.uk crew
Arvid Weber (BIT 3 booklet, BIT Live Germany DJ)
Mark-Hennessey Barrett (Wizball video)
Steve Barrett (Trap 2 video, BIT 3 booklet, Karma artwork, Crystal Dreamscapes Artwork)
Slaygon (C64.org)
Rocky Howard and the Tombstoners (MAME)
Paul Foerster (STA)
The Xmas Chortles Crew (P*SSED)
Press, Journalists, Companies, Sponsors
GamesTM
NTK.net
Steve Leese - novelist "Back in Time 3"
Patrick Becher
Ironstone Partners
...and more!
Those C64 games in full from the official website (get playing now)
Competitions and tournaments

11 -> 2.30
Barbarian
Spy vs Spy
Exploding Fist
Uridium
Ballblazer (actually on the Atari: it's miles better on that platform)

2.30 -> 6pm
IK+
Mega Apocalypse
Thrust
Microprose Soccer (indoor!)
Dropzone (Atari)

Instant Win Game
Arkanoid (find a laser, win a prize)

Other games

Boulderdash
Armalyte
Bubble Bobble
Encounter
Giana Sisters
Pitstop 2
Hypersports

reserve games (probably switch these at 3pm)

Tetris
Uchimata
California Games (surfin' USA!)
Bubble Bobble
AMC (Atari)

Of course, Sensible World of Soccer will be running on all three
Amigas on the "Three Amigas" stand, and there will be at least
one four-player game on the Commodore scene stand.
So it only leaves me to say I will see you at the weekend. Mine's a pint btw