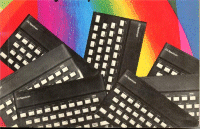 Sinclair Spectrum (Var)
Circa 80's-Early 90's
The early eighties machines were all about getting the best machine for the cheapest money. Out of the ashes of the successful ZX81, Sinclair created the first great cheap home computer:The Sinclair Spectrum. Complete with membrain keyboards and tinny sound, the Speccy became home to many outstanding software releases at the time. It was also re-released many times with memory updates and new keyboards and drives. Spectrum..We salute you!