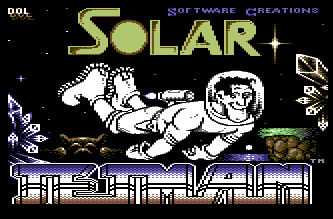 Solar Jetman found
November 03 News
Sorry about the lack of updates here at PeeknPoke (sadly had some bad news) but it's back and better than ever.
First some good news it looks like Solar Jetman has been found for the C64. This unreleased game by what was one of the better C64 coding teams, Software Creations (Bubble Bobble, Bionic Commandos) sees a conversion from a NES cart no less, taking basic ideas from Thrust with more elements thrown into the bag and it is complete rather than a mess of code. What was already a smashing game on the NES looks even better in Commodore code.
Frank Gasking from the Games that Weren't website is the man to thank for all this and this could get an internet release before Xmas. Cor! Thursting action as the snow hits the windows this winter. Bliss.
Above- Sneaky peek at the superb title screen from the fabled Solar Jetman