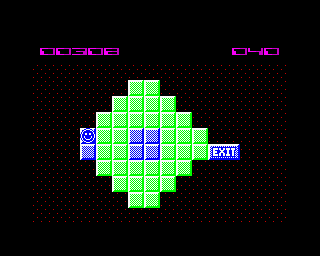 Sensitive Speccy style
Oct 03 News
This is some good news. Some bright spark by the name of Peter Gordon is programming a Spectrum version of Sensitive converted from the C64. The cult Commodore hit is a nice puzzle game that made a big leap into people's memory when released on the covertape of Commodore Format magazine.
This website link also has a downloadable sneak peak file to play in your fav emulator. Looking like fun eh? and this is all the work of 2 days! Imagine what the final game will be like.
Above:One of the funky levels of Sensitive but on the Spectrum