Back in Time 2003 PeeknPoke trailers More-------->
Back in Time is now on its fifth outing, which means that it could have become old hat by now, but still Chris Abbott pushed the envelope out even further promising a full day of games and chat and an evening of shows. You just had to show your face even if you were a might tiny interested. Who could resist an evening of Rob Hubbard unplugged?
As ever my girlfriend, Debbie wanted to come along and

face another one. Even though Back in Time 2002 was good, the club that it was hosted in was pretty poor (where I live there is a grotty club nearby with better class) and was too crowded for such a bit event but all this has been covered elsewhere. Back in Time 2003 was to held in the Brighton centre, which indeed sounded classy. It took us nearly eight hours by coach to Brighton (via London) on the worst coach ever. Still I had my MP3 player with me, and downloaded lots of sounds of the classic Commodore remixes to pass the time, which it did.
The hotel was nice and just off the front, so we did not have far to walk to the Pub everyone was meeting in. When we got there (At 9.00pm as expected) the place was a bit empty with a few faces dotted around. After a few Stella's I spotted a lemon64 T-shirt and had a chat to the guys on the next table. It is funny how friendly people are that go to Back in Time as everyone came over and had a chat regardless of knowing them or having spotted their faces off the net. Spoke to Tomsk from Newcastle for a while about games and stuff and even my new Australian pal, Tony (now that's bloody commitment) who knew who I was. Small world.
The place got full quickly though and familiar faces started appearing. Jan from remix hosting mega site, Remix. Kwed came right up and punched me on the arm :) He's one funny guy that one. Also seeing as I have just joined the Llamasoft message forum, I got talking to Muttley who introduced me to Bluey and Biscs (who was Gary Liddon's misses). Everyone seemed to have a fantastic time meeting up again, and it felt like the very first BIT. and this was only the start.
The Gamebase crew of John and James said hello and managed to poach a copy of the brand new stunning Gamebase CD (more of which in a later PeeknPoke review) and we all got drunk together. Gary Liddon was a star as usual banishing a wooden spoon around the place that had "magic powers" as it was waved around my head. Beer does some strange things :) Fred Grey (Mutants, Shadowfire soundtracks) was great to talk to about things (although I hate bring up games and past history to people who just want to come out and have a good time, how could you pass this up) and even sang the theme music to Mutants to him as I enjoyed the "high bit". Fred wondered what I was on so I sang it to him. Shit. Beer does really strange things. At least we had a chat about classic company, Imagine and its mega games that were never released.
So at 11pm chucking out time (Beer lightweights in Brighton?) Debbie and myself crashed in the hotel after the worst Kabab ever created for man to eat. I mean, when you are pissed, you enjoy anything. Pot Noodles, Vesta Chow mein, mud...Anything but this time it was horrid stuff.

The next day was the big event (and by the way fantastic idea of a night before meet - It made a great start) and we got to the Brighton centre on the front of Brighton. Did anyone get a shock like I did at the queue! Full of old grannies lining up! Then I discovered we had to go around the back entrance. Which we did shocked to think that Grannies could be into Martin Galway's Parralax music score. Funny.
The main game room was full of C64's and other retro stuff (including a Spectrum! the school ground fights must have finally come to an end). Lots of games to play including a three player version of IK+ that I thrashed Aussie Tony at, and The way of the Exploding fist, that again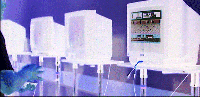 Tony was completed decked at. I am only saying this in the hope that someone did not see me play Uridium. Now that was sore. Years of playing retro games by myself (or a few players) were at a lost when about 10 people see you die in the first ship of that game. I blame the hangover. Got myself a few CD's too. Project:Galway sounded good so I got that -See the review soon- and even got a few CD's for free of various people. I hounded Boz (who I had never met before) for a copy of the videos on show, which he gave me but never knew it was a full blown fantastic DVD complete with some real great videos. Sorry Boz, I did not know. :))
Octave Jeff sounds from Manchester (only up de road from me) played some songs as you looked around the room and was cheered on by me. Great work Jeff. I heard a few people complain about not much to see but they hoped that the night would be better. Still it was another chance to meet new faces and laugh with the old ones. Went and had a pint with Jeff and sat with Fred Grey and a bi

t of a laugh about the whole retro scene. Then when I got in to see the rehearsal for tonight's event with Rob Hubbard (without moustache this time) and a very cool Benn Daglish. Even Mark "madfiddler" Knight looked great on stage :)) (told you I would put that Mark)
The nights event was, and had to be, cool. and it was. I wore my newly bought "High score" Tshirt and I bought Debbie a smart Tshirt that read
10 PRINT "RETRO GAMES ARE SHIT" 20 GOTO 10
The looks she got were great as we queued up to get in. A bit of fun as she does not get these events (but enjoys them).
We sat with old friends Lando and Navvie (from the first Back in Time event, no less) and sat and watched what I can only say was pretty breathtaking. The makeshift group called "Stuck in D'Eighties" were superb. Highlights was the two Paperboy covers with a excellent electric violin piece from madfiddler. Rob Hubbard was next with his unplugged set and it was just fabulous to hear these versions of his famous Commodore tunes and some great choices too including a Spectrum theme from Knighttime and even some Megadrive stuff. I loved every bit of it and was glad that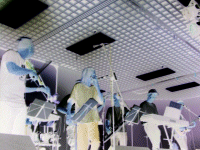 he just did not do the more famous ones. Good to hear. When people shouted out for songs of Sanxion and Monty on the Run I just had to, had to, ask for his piece from Samantha Fox Strip Poker as a joke (Rob always said he never did it till years later). The crowd laughed and to my amazement, Rob went over to the keyboard and played that tune. Timeless and everybody loved it. He got a standing ovation for every song which he well deserved and Rob became a more of a legend that night. He even got an old award from C+VG given to him. Classic. Best of all for me was when he did a medley of high score themes that started with, for me his best work, Monty on the Run.
After that Press play on tape came on stage. I was never a big follower but I am now. Everything that touched C64 wise was so good and marvelous to see them act out and in some parts dance to. The music added a rock concert edge to the whole show and made lots of people dance around the room. Wizball high score was a track to just see them do complete with crowd interaction to the "do do do..." bit. All of the tunes were supported by a projection of the Commodore games they were from and this gave an end to me explaining to Debbie just what you did in each game. Very superb show guys.
Then everyone came on for the final number, Monty on the Run which ended the night on such a high. All the people involved were coming across as such pro's on stage. I never knew Ben was that good. madfiddlers final part on MOTR was bang on and the people cheered.
So that was Back in Time 2003. Another event worthy of the C64. There was this Breakdance thing that I did, but it merits no mention here (I was wasted and just laughing all the way through) only that I got well beaten by a bloke in funny shorts :), oh well. We walked home and Debbie said to me "now that was good"
and with that retro has crossed over that barrier I think.
Big thanks to Chris Abbott for the best one yet. 10/10